Low speed direct driven compressor becomes a leader in the efficiency race in the world.
Large size oil injection screw compressor over than 50 horse power are the far-reaching range in the major industries and it is very important to select the most economical product not only the cost of compressor itself but also low operating cost as electric consumption etc,. Yujin's direct driven screw compressor has a large 5×6 profile airend application with reduced R.P.M in order to lower the cost for operation and higher the efficiency in the ranges of 50 600 horse power compressor. MICOS screw air compressor, layout design advanced package technology adapted and high quality part application will no doubt to be the best and outrageous choice.
Full grinding type high efficiency air end
Solely developed and manufactured Yujin's own air end guarantees it's durability as well as high efficiency thanks to strict production and quality standard control.
5×6 profile air end
High tech screw air end, exclusively developed 5×6 profile produced by full grinding technology serves lowest vibration and noise level with highest efficiency which is the best and the world first class performance.
Direct drive solution
Direct drive coupling minimizes power transfer loss and the more energy saving effect will be guaranteed in case when high efficiency motor is applied.
Advanced package technology technology application
Package technology of MICOS screw compressor is developed through perfect analysis of advanced technology. From the design of suction refrigerated air to the part selection and layout design , Yujin's compressor is developed under the application of advanced technology tends to be the best in the world.
Micos-Ⅳ MICOM Control system
Micos-IV Control with Touch Color LCD having trilingual interface can display a variety of function such as the operational status of the compressor, equipment protection, and maintenance message output through the appropriate icons available on the display screen, so you can operate the machine with ease and convenience.
Low noise and vibration design
Low speed air end with fully grinded rotors can achieve world top grade of noise and vibration performance and also guarantees long compressor lifetime.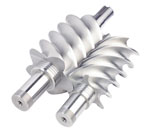 Optimum design application for Hydraulic line and pneumatic line
Thermostats installed in oil filter housing made possible to minimize the space of hydraulic line and using internationally proven and inspected connection fitting in order to prevent any leakage problems in the circulation line. Vibration proof coupling type outlet line reacts fluently against machine vibration.
Pre-Inlet filter
Pre-filter in two side covers remove contaminant from inlet air, prolongs the lifetime of air cleaner and makes the unit clean.
Easy maintenance and low maintenance cost
Filter component layout in consideration of regular parts replacement and inspection
Open facet and covered sides and rear
Completely enclosed cooler duct has a side cleaning cover for customer' safety and easy cleaning
TECHNICAL DATA(Micos 190~Micos 450)
Micos
Unit
Micos 375
Micos 450
Compression method
–
Oil flooded, 1-stage compression
Capacity
(F.A.D)(1)
7 bar
㎥/min
73.1
78.6
9bar
61.3
72.1
12bar
53.2
58.2
Compression Unit
Driven method
–
Direct coupled drive
Suction Temperature(3)
℃
MAX. 40
Outlet Temperature
MAX. Suction temperature + 15
Cooling method
–
Water cooled
Motors
Rated power
kW
370
445
Input voltage
V
AC 380 / 440, 3Phase (AC 3.3/6.6kV : Option)
Frequency
Hz
50 / 60
Starting method
–
REACTOR / SOFT STARTER
Pipe connection
–
125A
Control method
–
Micos-Ⅳ Micom controller
Noise level(2)
db(A)
85
85
Weight
kg
7,900
8,900
Dimension (L X B X H)
mm
3,582×2,100×2,525
(1) According to ISO1217 Edition3-1966, Annex-C.
(2) According to ISO2151 Edition1-1972.
(3) High temperature packages up to 55℃ are available